Guest Book – Contact Us – Links Page – ON-LINE STORE

For Apple Lovers the World Over
Welcome to Apple of Your Pie, from Harvard, Massachusetts, a site dedicated to providing information on:
Apples – the American way of life;

Pies & Baking – easy to follow how-to directions and recipes; and your source for gourmet pie bake ware (Books & Products). We offer more than 20 durable colorful pie plates made of stoneware and ceramic that are oven and dishwasher safe (Pie Plates). You can also find matching dessert plates and mugs, teapots and pitchers, and much more.
The Great American Apple Pie
What better use for apples than the great American apple pie. For those keen on making an outstanding pie, this site includes "can't fail" how-to section (Easy apple pies) and recipes from our co-founders' popular book, Apple of Your Pie. It's easy, even for first time pie makers! See the book page for details and samples of the 40 new photographs.

See Pies and Baking for a sample of the recipes found in our book. Direction are easy to follow.
Pie making tools, gadgets and other helpful accessories
Our on-line store is dedicated to the apple pie enthusiast, with everything you need to make an apple pie. We have a large selection of colorful of stoneware pie plates and several hand-woven pie baskets. You will also find a selection of books on apples, apple gifts, aprons, and oven mitts.
Thank you. Come again.
Thank you for visiting our site. Please visit us the next time you are looking for a pie recipe, pie plate, basket for yourself or a friend. We enjoy hearing from you, so don't forget to
sign the Guest book!
Order by phone 800-780-9770
Good luck baking your pies.
Apple of Your Pie
Our book is a collection of apple pie recipes and an illustrated history of apple growing in America, by Eileen and Charles Kronauer.
Books & Products

See our new selection of beautiful pie plates!

Carry your pie in a beautiful hand-woven pie basket.
(Baskets)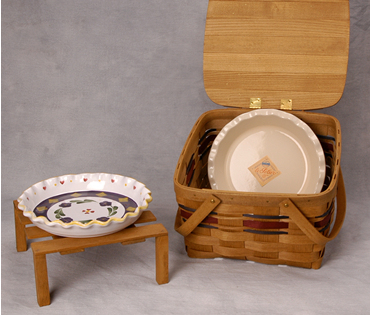 Harvest Gift Basket
Special Order Select from our many Pie Baskets and Pie Plates and add other items to create your own gift basket for that special baker.
Call to order (800) 780-9770.
Please leave your name and phone number and a brief message, and I will return your call as soon as possible.
(Kitchen Products)

APPLES and ORCHARDS: Apple History – Antique Apples – Apple Varieties – Orchards of N.E.
PIES & BAKING: Easy Apple Pies – Meet the Pie Lady – Kids in the Kitchen
BOOKS & PRODUCTS: Books and Pie-making Products – Classes and Pie-Making Demos
ABOUT US: Apple of Your Pie – About the Pie Lady – Contact Us